Consultants have prepared a report on the audit of air quality (but actually only nitrogen dioxide "NO2") which they carried out at schools in Westminster covering all of 2020 and some of 2019. That report suggests that nitrogen dioxide concentrations at (but actually adjacent) more than half those schools exceed the limit* set by the WHO - not the band, but the World Health Organisation.
Concentrations were not measured during the first few months of the initial covid lockdown, when air quality was much better than what it would otherwise have been. Consequently, average concentrations would have been lower than the report suggests.
The following charts are based on the raw measurements reported - except that these 1) include estimates where measurements were either not made or appear spurious and 2) have been multiplied by 1.2 as a notional adjustment for bias. The report does not state the adjustment factor(s) it used, if any. 1.2 is adopted here in order to help approximate the raw data to what the report presents on its 8th and 9th pages. (1.2 reflects the factors for the diffusion tubes likely to have been used - Gradko 50%TEA).
Average NO2 concentrations across Wesminster during the 12 months to mid-2021 are lower than to the end of 2019, particularly due to the extension of the LEZ and ULEZ.
The report did not recommend less traffic on roads near the schools. Why? (The London Atmospheric Emissions Inventory for 2019 indicates that road traffic was, the primary source of NO2). The report's top recommendation for inside school buildings is the use of air purifiers! The report recommends EV charging points [for whom?] somewhere [clogging up the street?], implicitly endorsing technologies and life-styles incompatible with the collapsing climate.
Click here for a pdf file of the charts and here for the raw measurements reported.
*Late in 2021, having reviewed recent evidence, the WHO greatly tighened its guideline value for NO2. It is now one quarter of the UK legal limit. Note that 12-month averages smooth out seasonal variation and are more relevant than a given month's concentration.
Abbey Road ward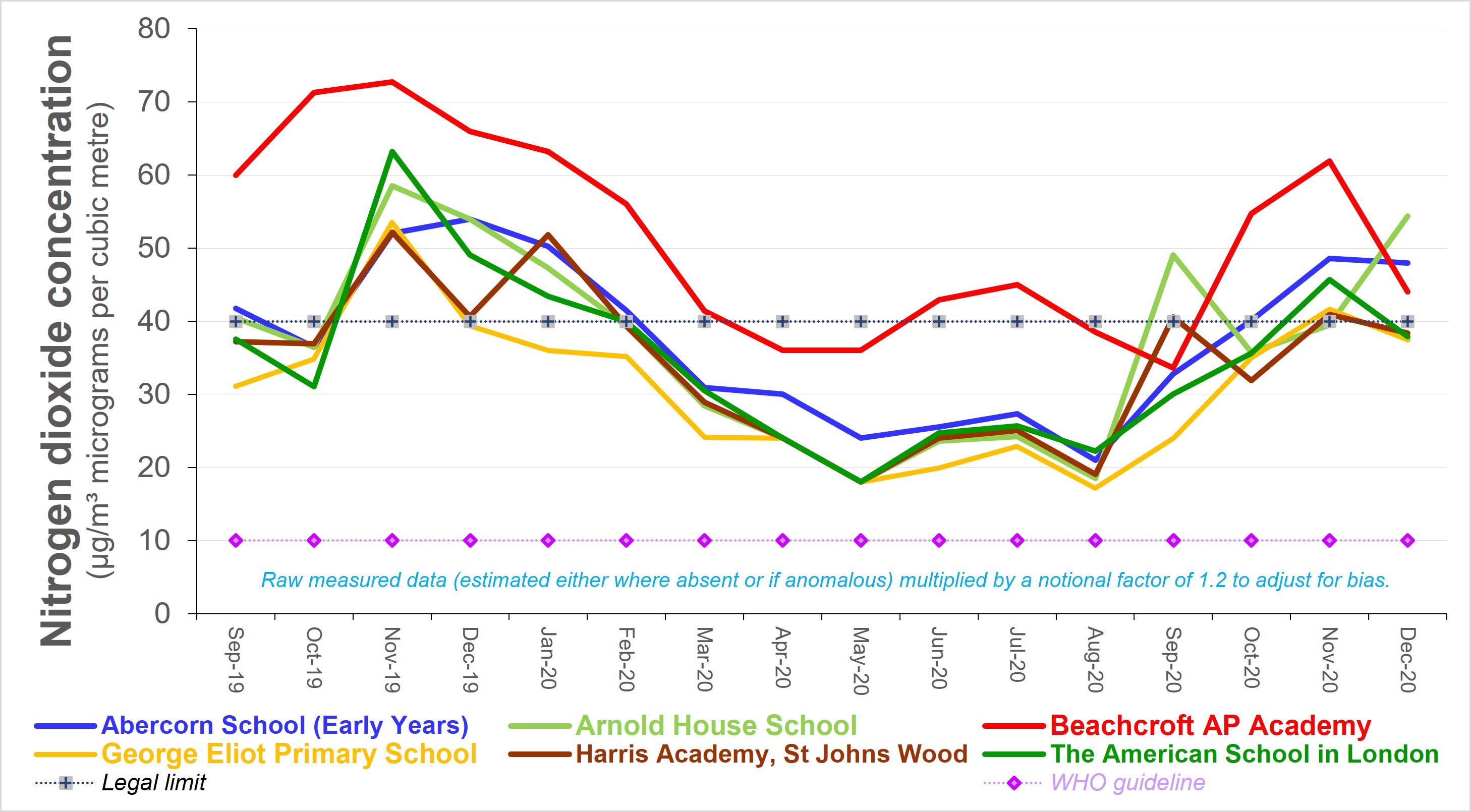 Bayswater ward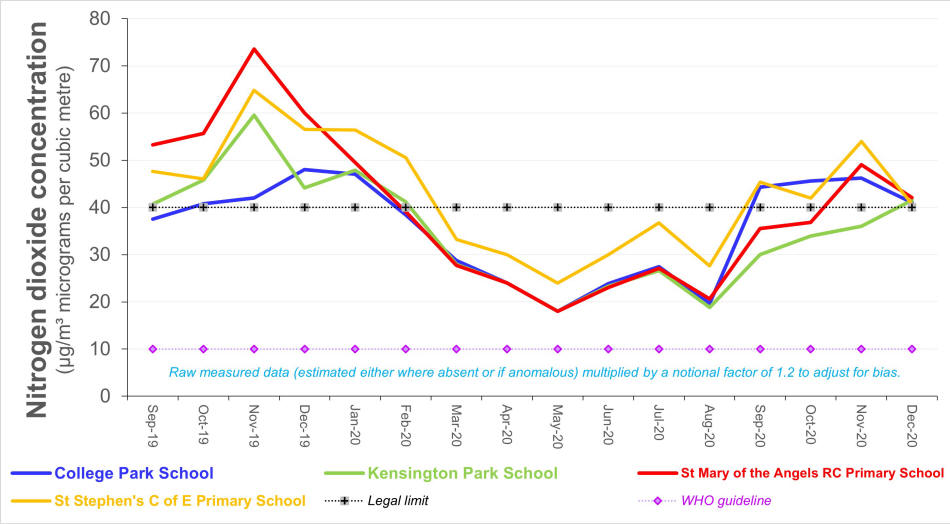 Church Street ward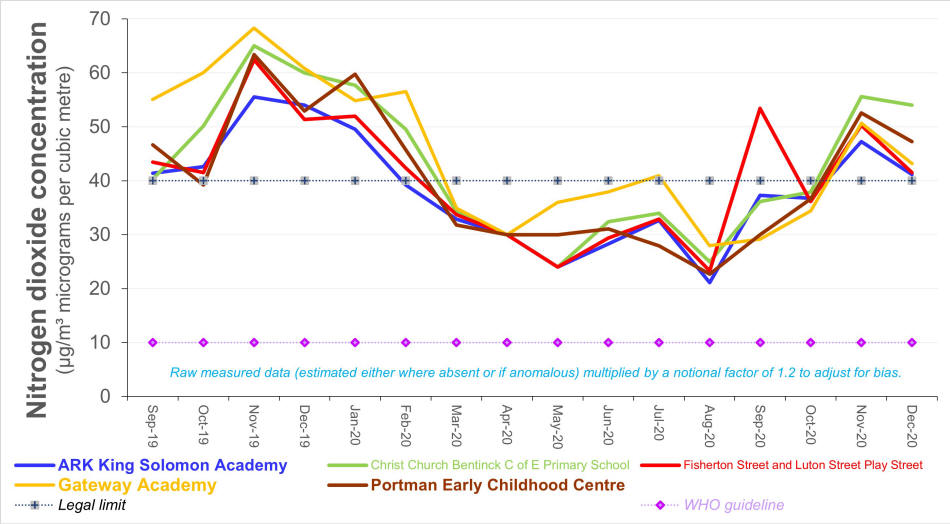 Harrow Road ward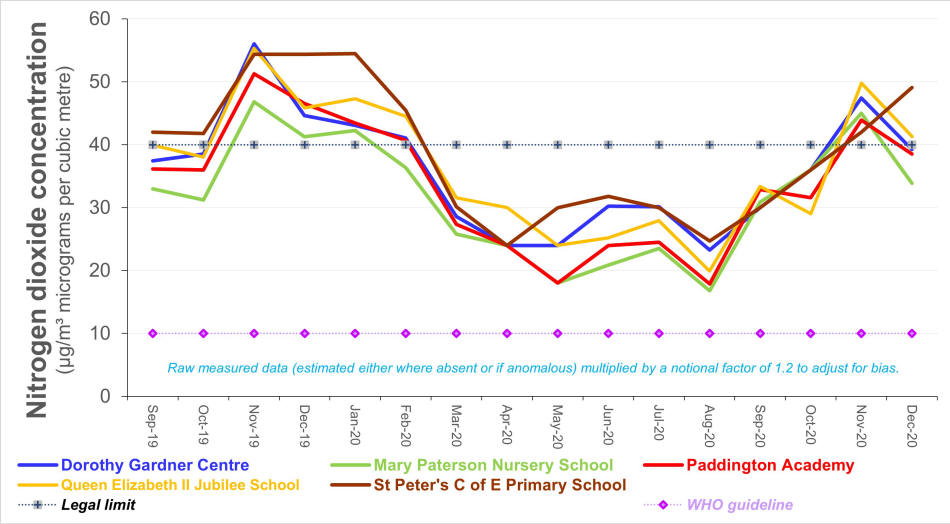 Kensington and Belgrave ward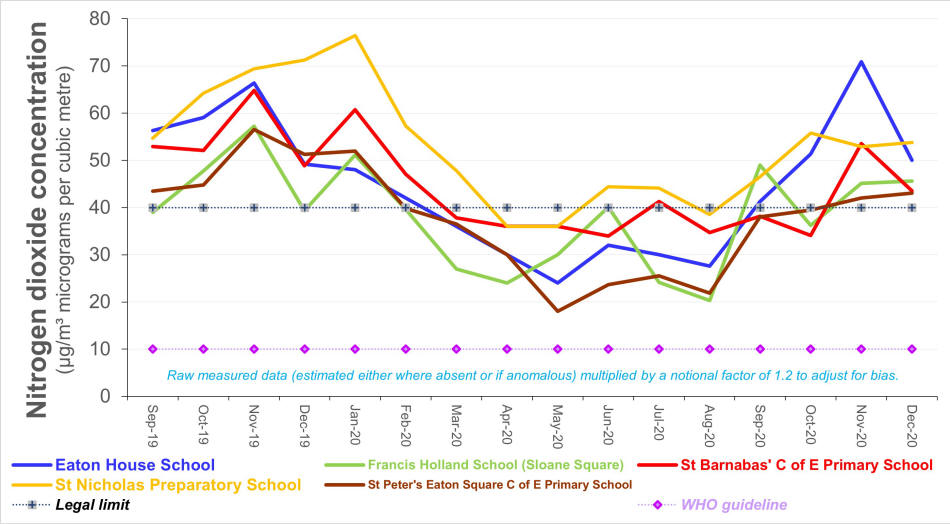 Lancaster Gate ward and Hyde Park ward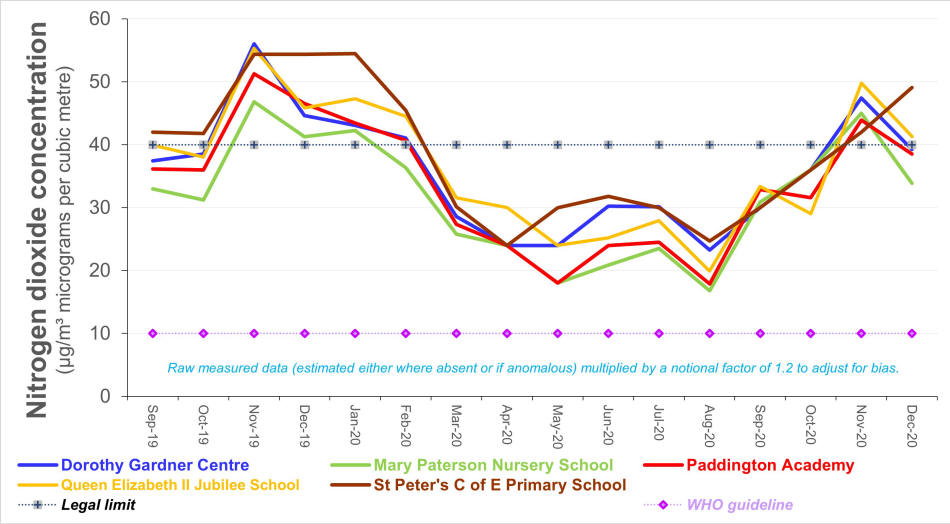 Little Venice ward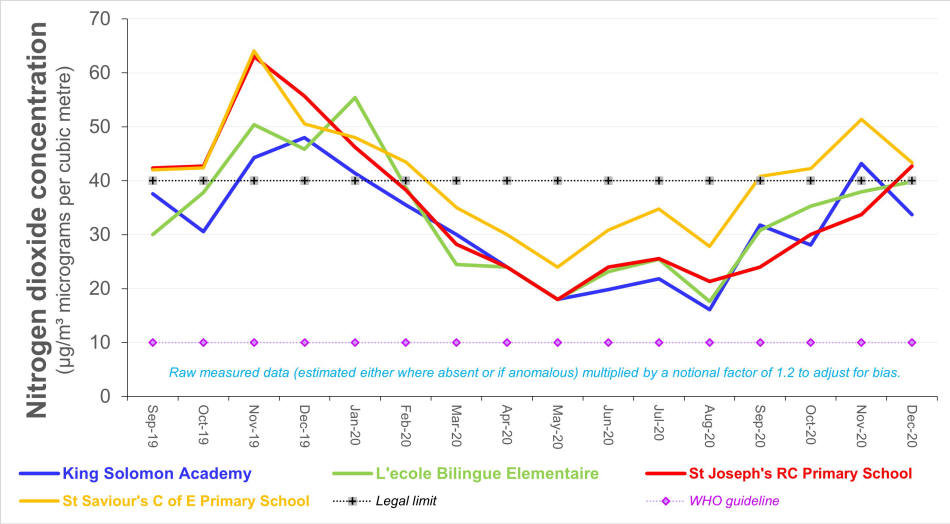 Maida Vale ward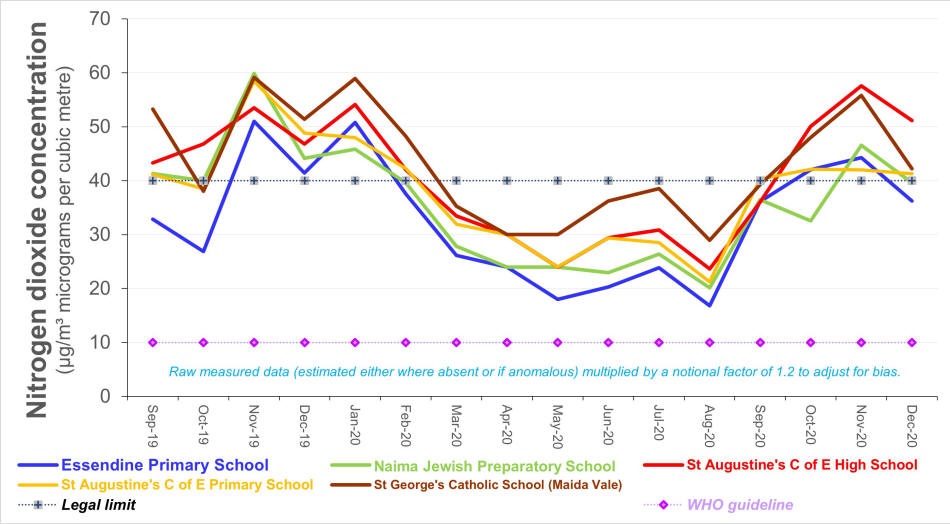 Marylebone ward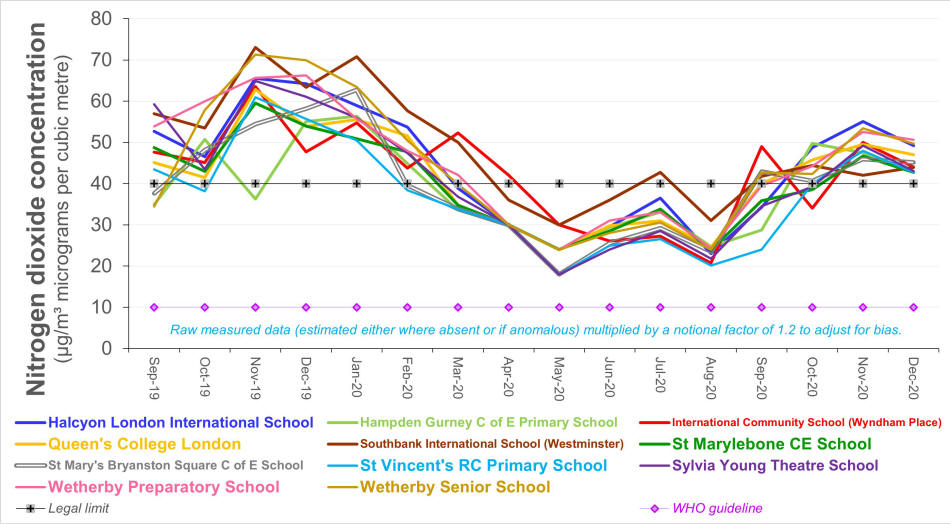 Pimlico North ward and Pimlico South ward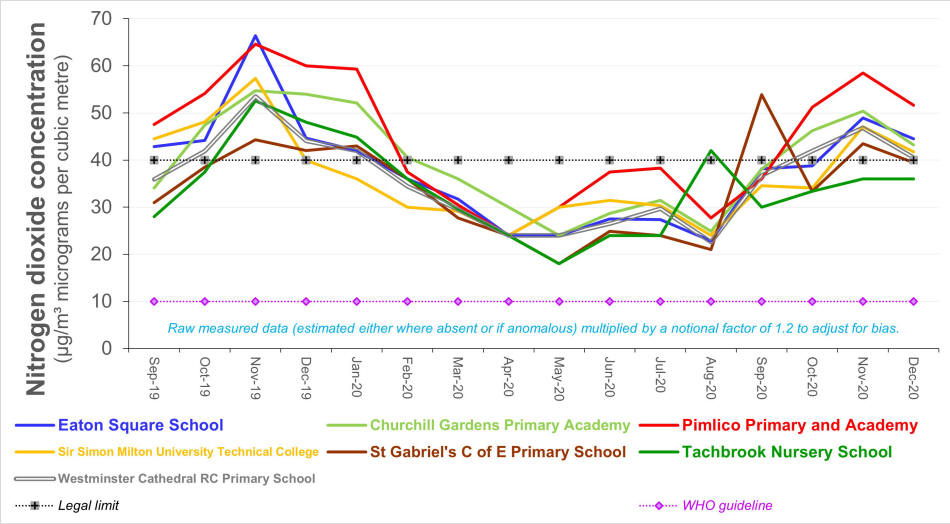 Queen's Park ward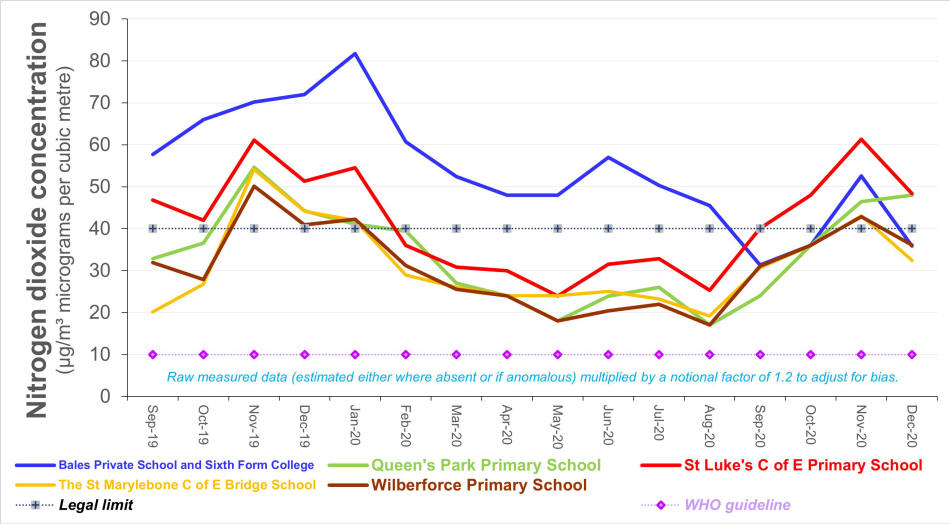 Regent's Park ward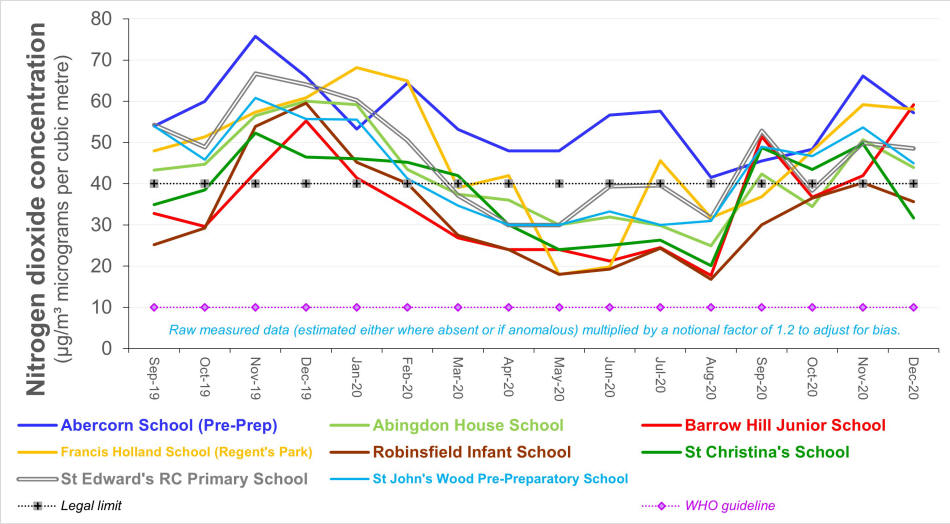 St James's ward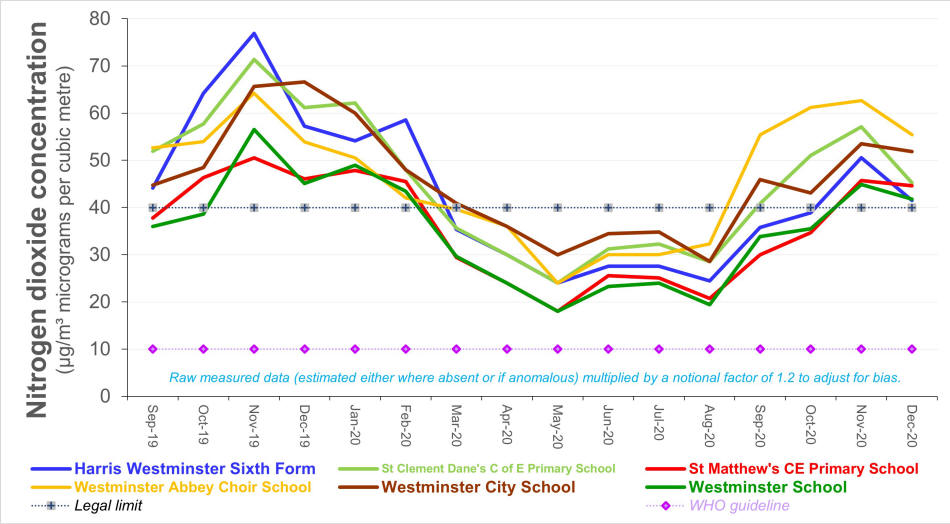 Vincent Square ward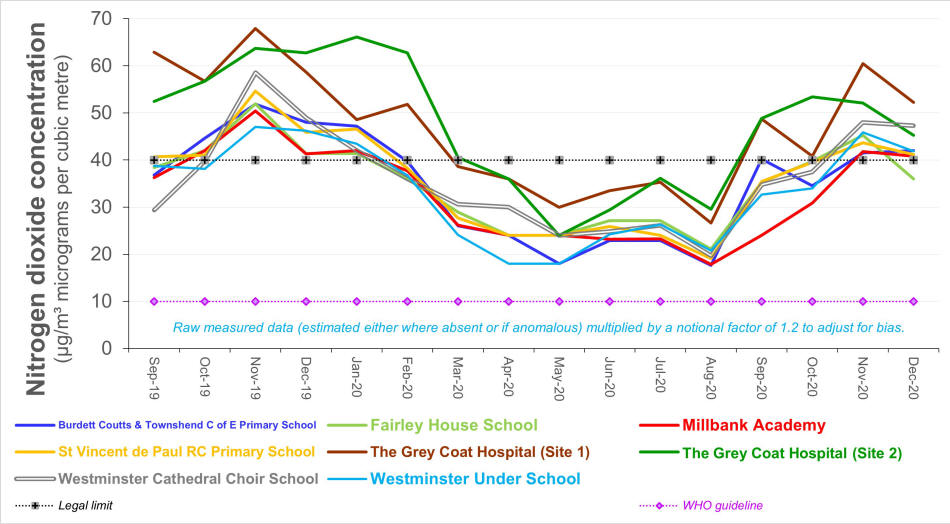 West End ward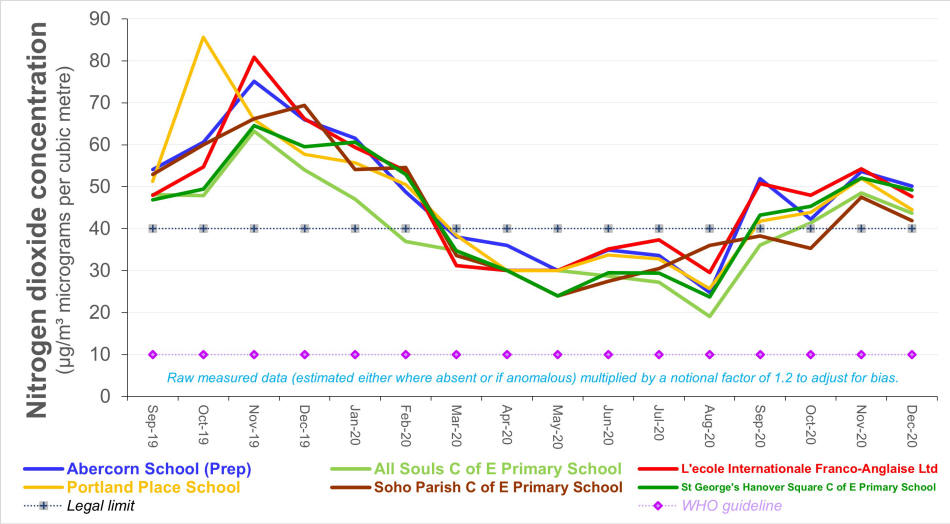 Westbourne ward