The following chart shows how the concentration of NO2 has changed since 2015 at sites in the City of Westminster where air quality is now being measured continuously for reference purposes (- the data derive from averages for each month):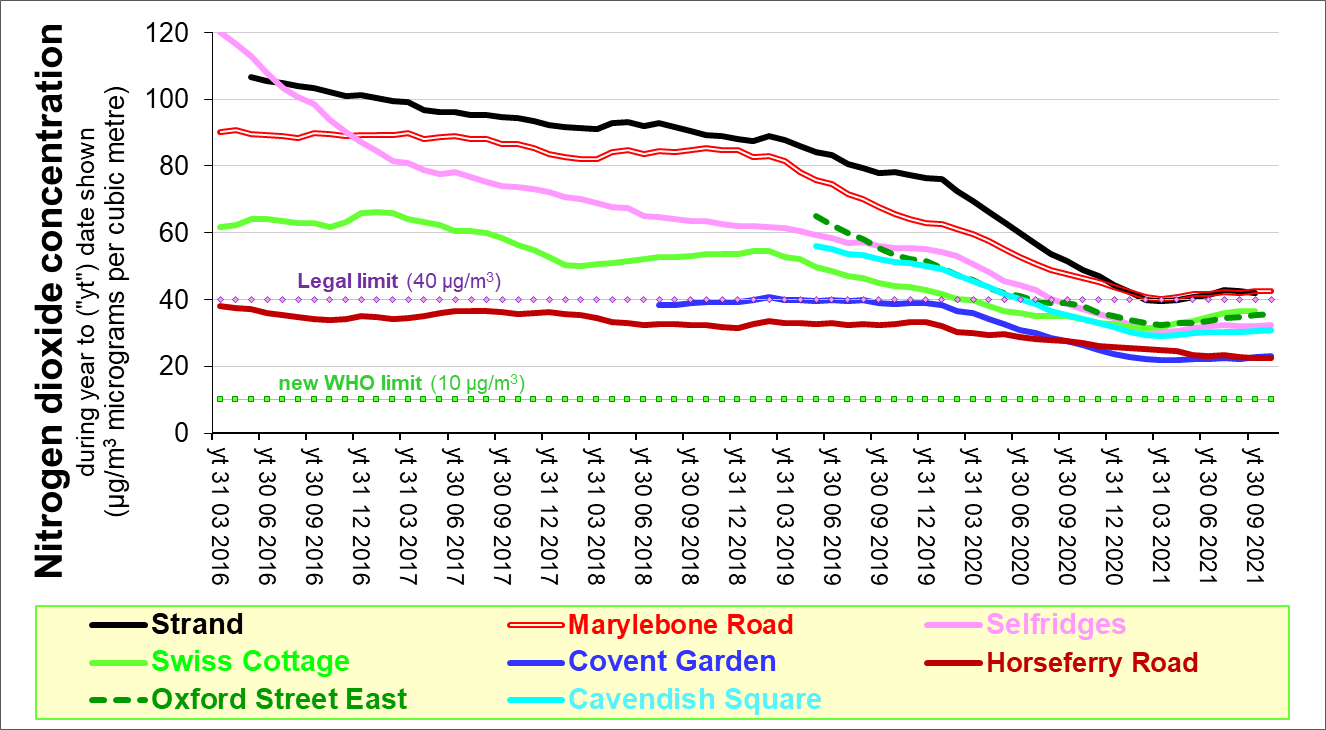 Source: based on London Air (Tools, Data Downloads)
As the chart above indicates, the continuous measurement of NO2 concentrations has only recently commenced at four of those eight sites. This constrains the evaluation of the impact which local, regional and central government interventions have had on air quality in the borough. However, that impact would seem to be marginal at most of those sites - with the exception of on Oxford Street opposite Selfridges and (somewhere) on Strand - particularly during 2018.
Westminster City Council stopped sytematically monitoring concentrations of NO2 using diffusion tubes in 2010, the year by which those concentrations should have declined to less than the legal limit (40 micrograms per cubic metre). The Council is planning to start doing so again, on the recommendation of both DEFRA and the GLA.
Deploying diffusion tubes would, at minimal cost, help the Council, residents and users guage the impact of specific projects, such as during and after the costly, contentious urban greening and road works of the the Marylebone Low Emission Neighbourhood.
Court rulings subsequent to cases brought by ClientEarth oblige government to ensure NO2 concentrations decline to beneath the legal limit in the shortest possible time. Central government has past the buck to local councils, obliging them to demonstrate that they are doing all they can within their power to comply. However, it would obviously be wrong to assume that local councils have sufficient power to design and implement policies which meet the legal obligation, especially in London where regional government might have much greater influence. That said, the Council has now declared a Climate Emergency (but its more recent City Plan 2019-2040 almost completely ignores this, thereby almost inviting litigation).
Westminster city council is implementing a number of policies which seek to improve air quality - to some extent - including by charging diesel vehicles a supplementary parking charge in one locality. Judging by its (pre-election) Air Quality Manifesto (and its Schools' Clean Air Fund), the council's rhetoric is commendable, but can probably achieve little.
The Council has started a programme to monitor NO2 concentrations for 12 months at the main entrance to most schools in the borough, on the assumptions that 1) initiatives to improve air quality at those schools will take place and 2) a second year of monitoring NO2 on completio of those initiative demonstrate the effectiveness of those initiatives (regardless of the impact of interventions such as the ULEZ).
Research by Imperial College [see / listen from minute 15:10] indicates that NO2 concentrations are unlikely to meet that requirement, particularly along those busy streets (and in their neighbourhood), even when the proposed Ultra Low Emission Zone is fully implemented across London. A substantial reduction in vehicle numbers will be essential. Indeed, until the battery charging network for electric vehicles ceases to rely on electricity generated by burning fossil fuel or biomass, those vehicles will tend to accelarate climate change.
Concentrations of particulate matter are measured across London only at official reference sites. Concentrations of PM10 (particulate matter of size less than 10 microns) should already be lower than 40 micrograms per cubic metre under EU law, but the World Health Organisation recomments half that concentration and the limit value in Scotland is even lower - 18 micrograms per cubic metre. Neither the UK nor the EU have set limit values for PM2.5 (size less than 2.5 microns), but Scotland has set a target of its own - 10 micrograms per cubic metre - to be achieved by 2020.
The following chart illustrates trends in PM10 concentrations at sites in and near Westminster - and indicates that those concentrations have not declined since 2017.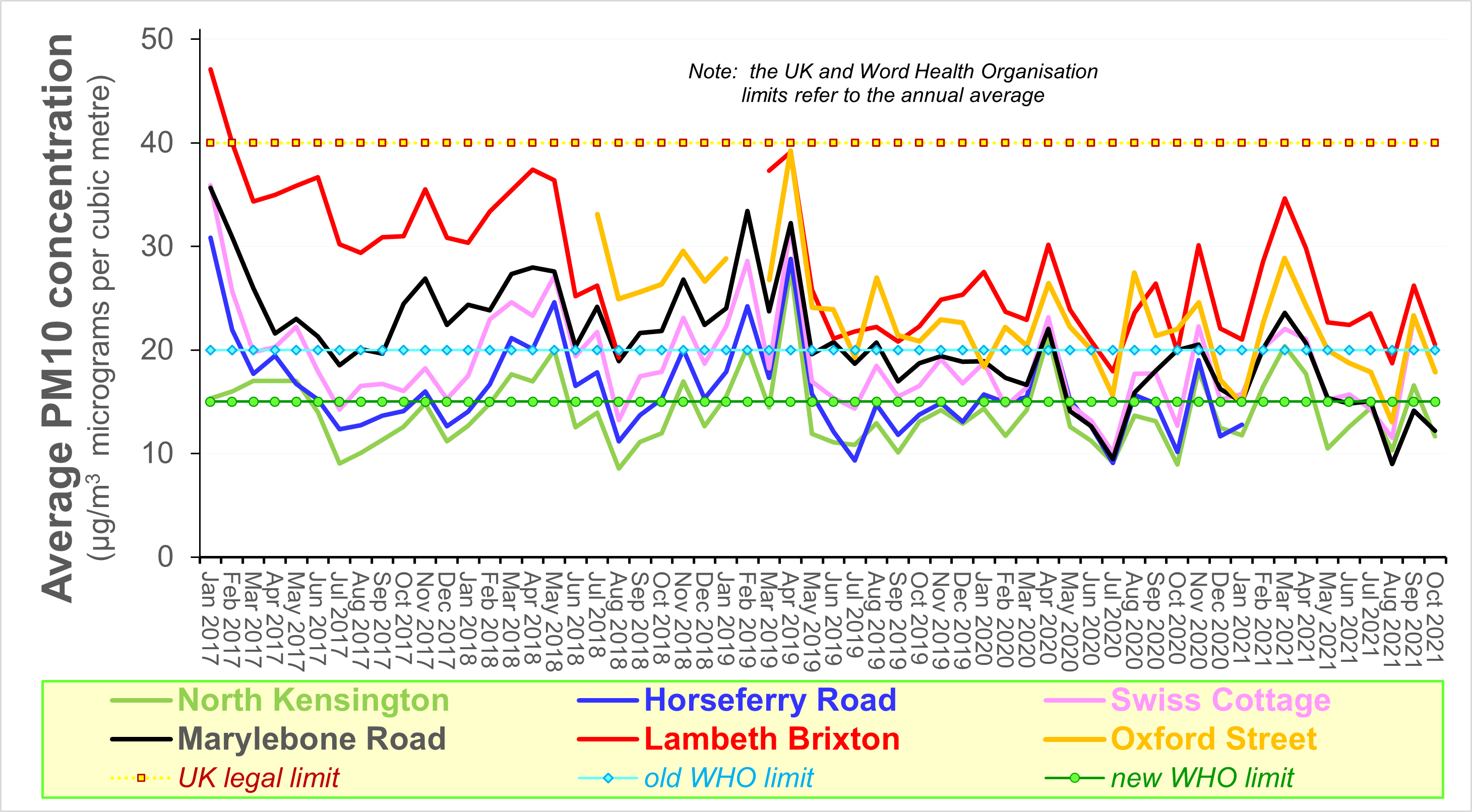 Source: based on London Air (Tools, Data Downloads)

Click the following names for information concerning NO2 concentrations in those wards: